---
How to create abstract art to jazz up your interiors

Well you'd be absolutely right – abstract art is accessible to all of us (even those who believe they have no artistic talent). All you need to get started are some basic art supplies, or some creative software if you fancy going digital.


Gather your supplies

First off you'll need to work out what you want to paint on – paper, canvas, computer or tablet; then select your brushes and paints. Make sure you check out our "Tips for painting on canvas " blog post for a full guide to prepping your canvas if you're going down the traditional route of using this medium. We also love Procreate for the iPad with the Apple pencil stylus for mess free abstract art that you can create from the comfort of your sofa!


Go big or go home

Bigger is often better when it comes to abstract wall art, so make sure you choose a canvas size which will make the biggest impact in your home. For the digital painters among us, make sure you set your resolution size so you can print a high quality image to canvas once you're done.


Get in the zone

It's important to 'get in the zone' to create your best work – the music you choose will likely have an impact on the way you're feeling while you paint, so choose wisely. Try and work somewhere you won't be disturbed so you can really get the benefits of being in that flow state (it's so good for wellbeing, as well as for creative output).


Make the first mark

They always say the hardest step is to start; so get stuck in with the first mark and let your paintbrush/stylus do the talking. Abstract art is more about feeling and intuition than precision, so there's no way of getting it wrong – what a relief for the perfectionists among us!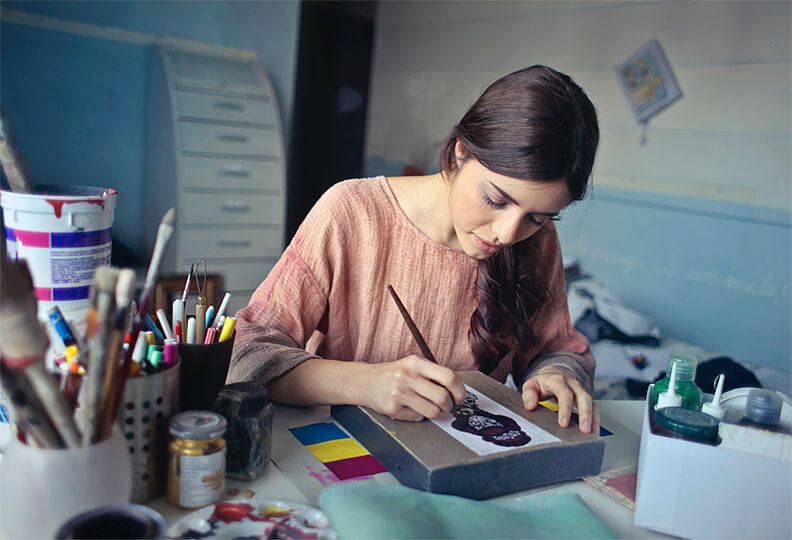 Use your intuition

Creating abstract wall art is a fabulous way to trust your own creative expression – you can make the piece look attractive from close up and far away by using colour and marks with freedom. Add further interest by adding textures with paint, different mediums or even a collage.


Finishing up

Once you're done painting onto canvas you might choose to add a layer of varnish to protect the piece. With a digital piece you'll want to save a copy of the file in the correct format to send it off to the printers.

There's no time like the present, so get your kit together and start making art today – we can't wait to see what you come up with; once you've made some digital art, give us a bell and we can walk you through getting it printed into some glorious abstract wall art whether you'd like a canvas print, poster or framed print for your home!

Tags abstract wall art, canvas wall art, home decor, framed print, poster print
---
Related Products