---
A canvas for a Valentine's Day gift
The last throes of winter are in the air and you're feeling full of romance – it must be Valentine's Day! Coming up with a uniquely inspired gift for your loved one, or even that office crush you've been struggling to connect with, can be tough. Flowers and chocolates are traditional and a safe bet, but what if you fancy trying something a little bolder? A
canvas
might not seem like the ideal kind of gift for a Valentine, but with a little bit of creative thinking, you can really wow that special someone in your life.
A quirky but fun idea you can try is to wait for the first fall of snow and write your Valentine a message in it. Maybe a simple "I love you" scraped out on car roofs or something a bit cheesier like a snow angel and suitably corny comment like "You're my angel!" Take a photo of your handiwork, send it us to print for you and they'll soon be putty in your hands.

Will you be my Valentine?
If you're feeling brave and don't mind putting yourself out there, you could try writing "Will you be my Valentine?" on a big sheet of paper and taking a selfies holding it up for the camera. Play around with different poses and enjoy yourself – it's just a bit of fun.
If you fancy thinking a little more subtly but still want to be creative, how about gathering up a collection of small items that mean something to you and your partner? Wedding rings or other jewellery gifts, tickets from gigs and events you've been to, a pebble or shell you picked up on the beach together, a cuddly toy you gifted or received... there's loads of potential with this one! Once you've collected them all up, organise them on a table or clear surface and take some arty shots of them ready for printing. It's all kinds of thoughtful all in one simple canvas package!
If you're sending your partner a Valentine you might want to try the nostalgic approach. Why not go back to the place where you met or had your first date and take a photo. You could make it another selfie, but this time hold up a card inviting him or her to meet you there for dinner on a specified date and time.
This next idea is great for those of you who have lots of wonderful memories of you and your partner stored on your PC or laptop. With some basic Photoshop skills you can create a
photo collage
and print it on a large canvas. Be sure to include romantic nights out, birthdays, special occasions and the odd funny or embarrassing shot. This is such a simple and creative way to express your love.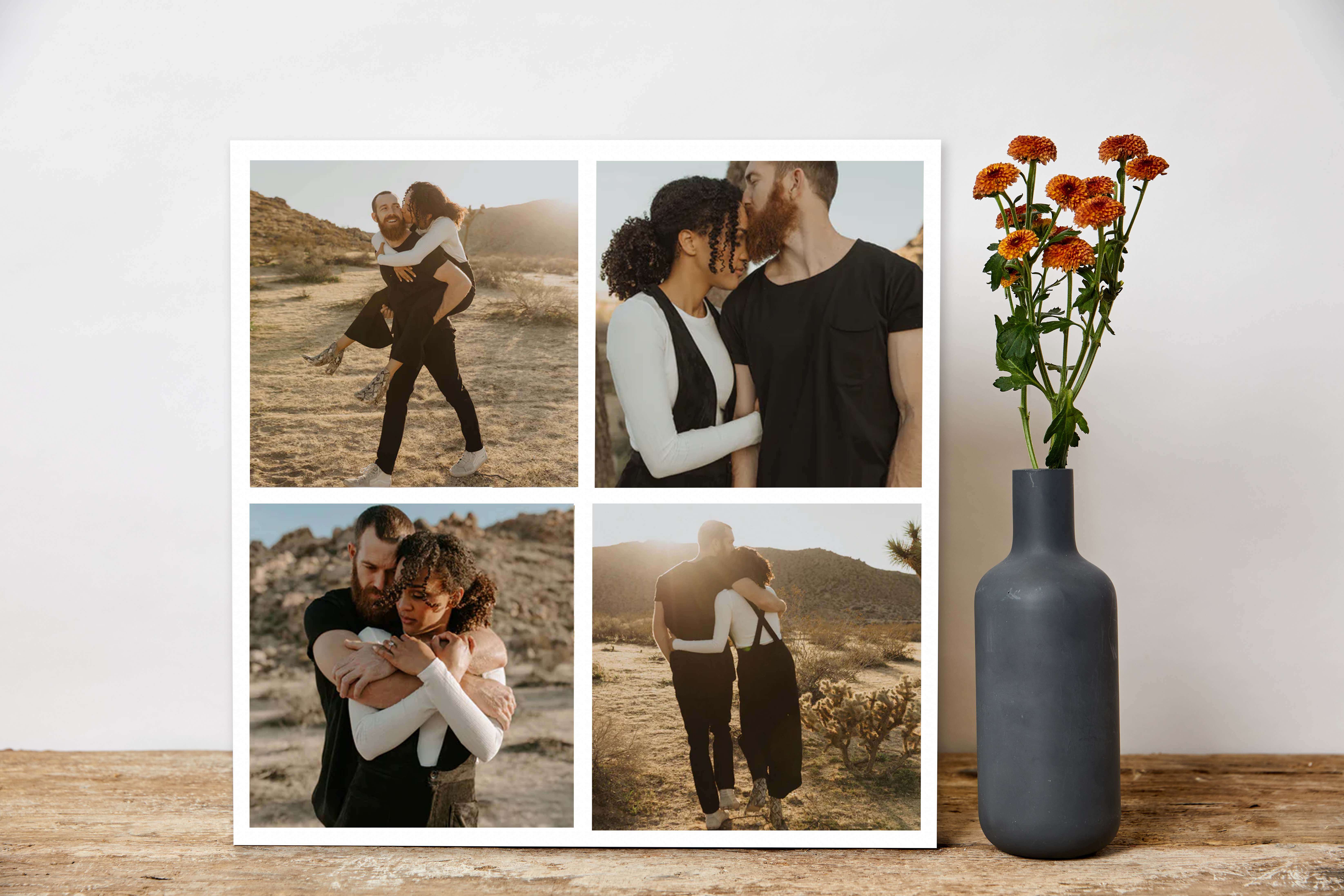 As you can see, there are loads of ways you can tell the one you love that you care this Valentine's Day without resorting to clichés. A quality canvas print is a really great medium for expressing yourself, having a bit of fun and putting a smile on that special person's face.
Tags canvas art, photo print, best canvas prints uk, custom frames, qaulity canvas pictures, personalised gift, valentines day gift, last minute gift, free next day delivery, design your own wall art, personalised typography, poster prints
---