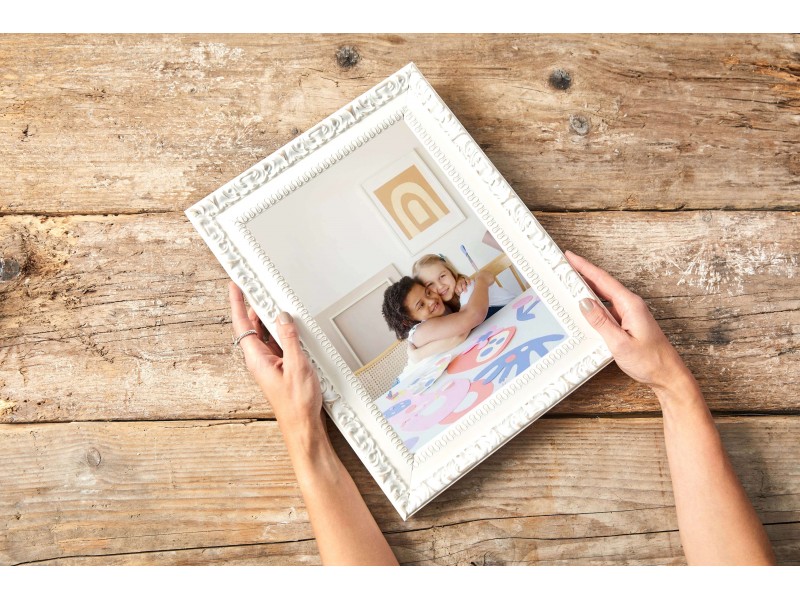 ---
Summer art projects for kids

Changing rules around Covid-19 mean we might be spending more time in and around our homes over the next few months – so let's make the most of it by getting stuck in with these summer art projects for kids which will make those long school holidays fly by!
Nature collage

This one's an idea as old as the hills, but it's a great way to combine fresh air with art. Just grab the kids and head out on a local walk amongst the wildlife, and collect items from nature to make into a collage. We love leaves, flowers, grass, bark and small sticks, but our absolute favourite is using a flower press to create beautiful floral artwork; these look beautiful printed onto canvas in a family home too.
Potato printing

Making art with spuds is a fun activity for all the family; dig out some potatoes and some paint, chop the potatoes in half and cut them into a stamp shape of your choice, dry with a bit of kitchen towel and stamp away. Top tip: If you've got metal cookie cutters these are a simple and safe way to make precise and pretty shapes.
Stone art

Source some smooth stones for painting beautiful designs on – a fab art project for all ages. We love using Posca paint pens on pebble art projects for kids (and adults) to make beautiful intricate designs on stones. You can place them round the garden, or even in local parks to brighten someone's day.
Bubble art

All you need for this very fun project is some cardstock or canvas, concentrated food colouring, tape and a few pots of bubbles – tape a pattern, letter or shape onto your chosen canvas, use a few drops of colouring to make different coloured bubbles and blow your artworks into existence!
Graffiti

If the weather's nice (and you've recently had any large deliveries), you can use a deconstructed cardboard box and set up a graffiti station in the garden; use paint, markers, paint pens and non-toxic spray paint (for older kids). If the kids are really into it you can even look into making stencils with them – who knows, you might have the next Banksy on your hands at this rate!

These art projects for kids will help you to keep those little ones occupied and happy, while also letting you unleash some creativity with them if you fancy!


Tags framed print, poster print, cheap canvas, perosnalised canvas, craft projects, art, wall art, diy gift, gift ideas
---