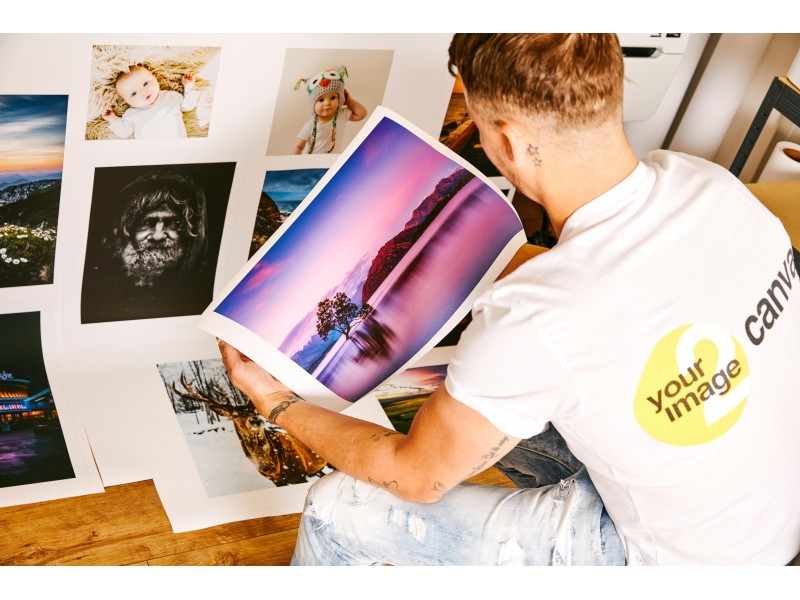 ---
Photo poster prints or canvas prints – which is best for you?

Sometimes you just want to put up a picture that makes an impact; today we're going to compare canvas prints with photo poster prints, so you can choose the perfect way to display.


Back to basics

Just so we're all on the same page, let's make sure we all know what we're talking about:

● With a canvas print, an image is printed onto canvas fabric, before being stretched over a wooden frame ready to display

● Photo poster prints are photographs which are printed onto a layer of quality paper, traditionally in a large size

It's all about the aesthetic, darling

Obviously a huge part of your decision is going to be what the finished product looks like, so here's the main aesthetics of both:


Canvas prints

● Matt finish
● Can be enjoyed from any angle
● Great colour saturation
● Stands out from the wall
● Can be framed

Photo poster prints

● Looks divine with graphic design
● A shiny, clean finish
● Makes an impact
● Gives a professional look
● Flat to the wall
● Can be framed

The longevity of canvas and photo poster prints

Photo poster prints are ideal for advertising events, popping in a professional look-book or displaying on your walls. We think an ideal use is for teenagers or those who love displaying movie posters in their homes – pop them straight up for shorter term use or in a simple frame to keep them lasting a number of years.

They're very unlikely to last as long as a canvas print, which can last literally up to a lifetime, but not every project is long term and so a print can be perfect for shorter term displays, where you may want to switch things up more regularly.


Portability

If you're a student, young professional or someone who lives in a rental property, and might find yourself moving house more often than some, you might be limited to what you can hang on the walls. Posters can be a perfect middle-ground for you, as you can affix them to the wall without upsetting the landlord, and when you need to move, you can simply roll them up into a lightweight tube and carry them on to your next pad. Simple!


The price of photo poster prints Vs canvas prints

For the budget conscious, poster prints are the obvious choice. They roll in at a fraction of the price of canvas prints, so it's really a no-brainer if saving money is on your mind.

Now we've given you some food for thought, you can make your choice; which is best for you – photo poster prints or canvas prints?

Tags canvas prints, poser prints, custom posters, made to order prints, home decor, gift ideas, personalised gift, picture frames, framed poster, personalised canvas, star map print, free delivery, wall art, next day delivery
---
Related Products