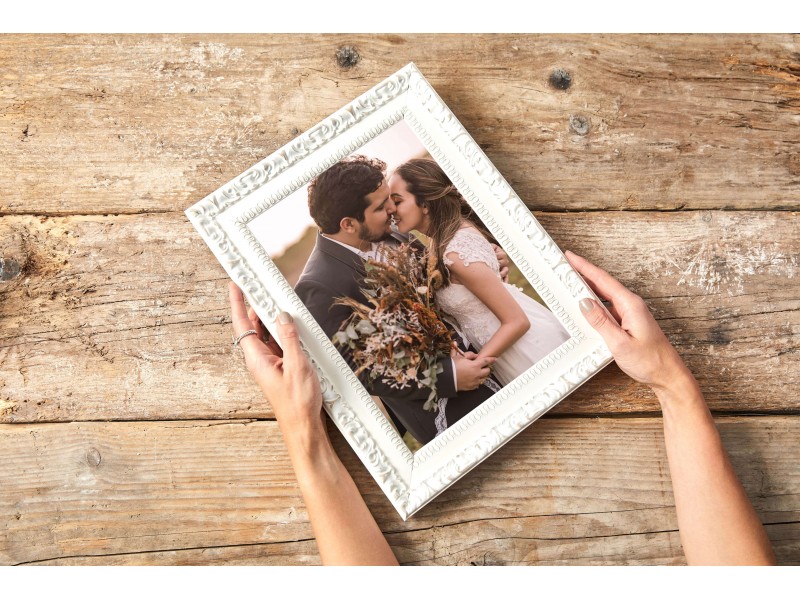 ---
Tips for choosing the right picture frame
Choosing a piece of art or photography for your space is one thing, but that's only one part of the challenge – here we give you a helping hand with the next step; with our tips for choosing the right picture frame, you'll be hanging in no time!
Picture frame material
When choosing a material for your frame, you have two main options, wood or metal.

For a modern, sleek look that enhances the look of the photo without distracting from the content, a metal frame works wonders.

A wooden frame gives a more rustic look, and is typically used for traditional artwork or photographs. Of course, there can always be exceptions to this rule, with ornate metal frames that suit a more traditional piece and contemporary modern wooden frames.
Picture frame colour
The colour of your picture frame needs to be chosen carefully – but how to choose? Here are some effective ways to pick your frame colour:
● Pick a frame in plain white, for a casual aesthetic that goes with everything!
● Choose a black frame for black and white photos, and elegant vibes
● Match the picture frame colour to a colour in the image
● Contrast the colour of the frame with the main tone in the artwork to make a real impact
● Choose a frame in a neutral colour if you prefer to play it safe
We offer a range of frame styles in different colours and sizes, something to suit everyone.
Consider the room
Here are some tips to help you make sure your frame will fit cohesively into your space:
● Make sure your frame stands out from your wall colour to pack a punch
● Matching frames work best when creating a gallery wall feature in your home
● Think about the overall feel of the room, including era, textures and colour, when choosing your frame – does your frame complement the existing decor?
Mount
If you've got a small picture to frame, you might want to consider a mount – these cardboard shapes frame your artwork and make it more visually appealing on the wall. Mounts come in a variety of colours and sizes, you can choose one to suit the aesthetic you want and complement your artwork.

Now you've read these tips for choosing the right picture frame, you can get started – you can even choose your artwork and picture frame on our website if you like!

---
Related Products