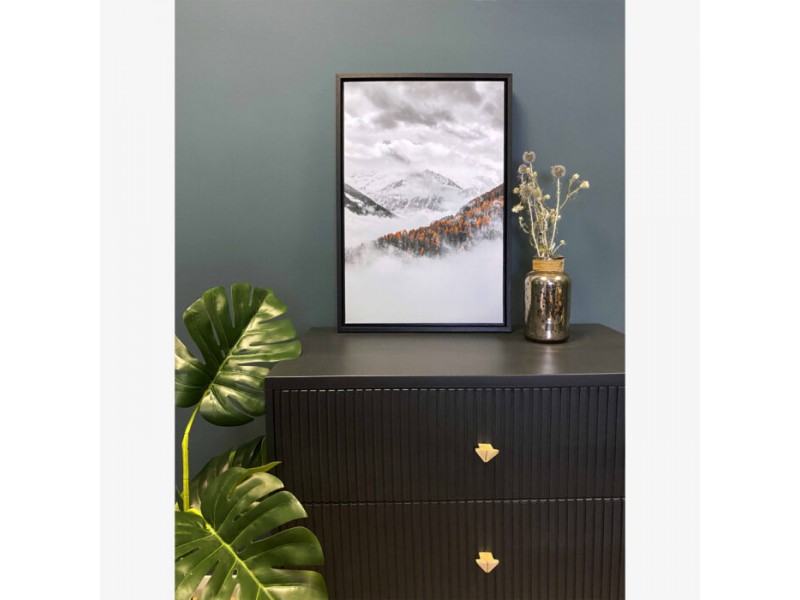 ---
Floater frames are frames which create the optical illusion that the canvas is floating within the frame. It can also appear to the viewer that the piece is suspended within a box, which explains the alternate name of box frame, which you might also see advertised.

Take a peek at these stunning box frame canvas prints that you can buy directly from our website. Our favourite is the Frosty Mountains boxed canvas.


When to choose a box or floater framed canvas

When choosing a frame for your canvas artwork, it's important to consider what the most suitable frame for the job is.

Here are some reasons to consider selecting a box frame:
● The style of artwork - floater frame canvas prints look great with modern artworks
● When it's important to display the edges of a piece of canvas art for impact or detail
● To add a touch of contemporary class


How to order floater framed canvas prints?

We love putting together floater framed canvas prints for our customers! If you think your image would work well in this style, here's how to get one delivered to your door within days!

1. Hop onto our canvas builder page at to get the process started
2. Get your image to us – you can upload it directly, email, transfer from DropBox or WeTransfer or send it using the good old fashioned postal service. Make sure you're using as high quality an image as you can, especially if you are going to print to a large size. We accept JPEG or PNG files up to a maximum file size of 20MB
3. Choose the size and shape you want; we print rectangle, square and panoramic canvases, from 8"x8" up to 40"x40" in standard sizing. We also make custom sized prints
4. Select between portrait and landscape
5. Under Canvas Style, select Box Frame
6. Decide between white, black or dark wood for the frame colour
7. Click on Original, Sepia, or Black & White to determine your colour editing
8. Add a hanging kit to your order for just 99 pence

Now you've got a handle on floater framed canvas prints, what they are, when to choose one and know the steps to take to create one with us; we're looking forward to collaborating with you and creating a delightful box framed canvas to meet your specification really soon!
Get in touch if you have any queries or if you need help printing your photo to canvas.

Tags Canvas floater frame, Floater framed canvas prints, box frame canvas print
---
Related Products