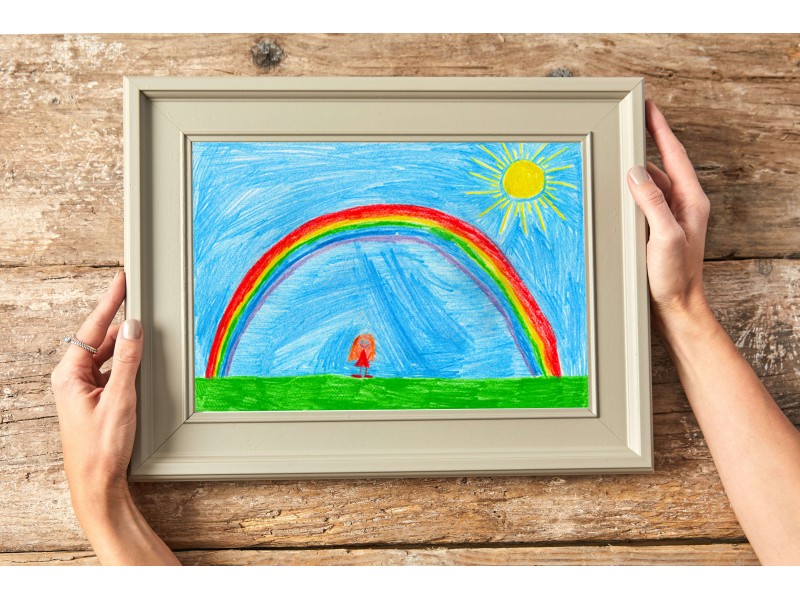 ---
The kids may be back at school but with the wet wintery weekends set to last for a while yet and the next school holiday never far away, we thought we'd inspire you to get creative with these fab painting projects for kids!

Whether they're confident creators or just finding their feet, with a little encouragement they could soon be producing mini-masterpieces worthy of printing and hanging on your walls – or even giving as gifts to the family.


Painting Project 1 – Fiery Marbled Tiles

This is a super cool art project where the kids can paint using rubbing alcohol! Not just a creative bit of fun, but also pretty exciting!

All you need is:

• White tiles
• Permanent markers
• 91% rubbing alcohol in a dropper bottle
• A safety lighter
• Adult supervision – essential!

1. Each artist starts out by making a design in coloured permanent marker on their tile – let them go wild, anything goes!
2. Add a few drops of alcohol to the design – this will blend the colours
3. Move the tile onto a foiled baking tray
4. Move the rubbing alcohol away from the area and ensure no alcohol has spilled on surfaces or skin; clean thoroughly just to be on the safe side
5. All fire safety measures apply: tie hair back, keep younger kids and pets out of the way and depending on the artist's age, consider letting an adult take over at this point
6. Using a safety lighter, light the alcohol on the tile; it will burn for around a minute and as it clears, you'll see your marbled design appear!
7. Add polyurethane spray to the finished piece to seal the design
8. Add felt circles to the base and you have a ready-made coaster!
Straw Monsters

We recommend this as one of our favourite painting projects for kids, because it creates lots of giggles as well as a cool piece of art.

You will need:

• Watered down tempera paint in bowls
• Spoons
• Paper
• Straws
• Permanent markers


Now for the instructions…

1. Draw some monster features in the middle of the paper in permanent marker – think mad eyes, big nose, some key body parts…
2. Spoon a couple of drops of paint on the page in the appropriate place on the design to start off the monster's hair
3. Now get a straw and point it in the direction you want the hair to flow
4. Start blowing!
5. Watch the paint spread and repeat the process if you want to add extra details or layers
6. Laugh a lot (optional but almost certain!)
7. Scan your fabulous finished monster paintings and get them printed to canvas or as some cool poster prints and stick them up in your kids' rooms – or send a copy to Grandma
Painting with natural paint brushes

If your family are green-fingered kind of folk, this project will be perfect for you. Here's what you do…

1. Take the kids out on a walk (or send alone if they're old enough) to find some sturdy twigs and some evergreen leaves
2. Once that's sorted, find some twine or string
3. Now tie some leaves to one end of the twig, to create your very own natural paint brush
4. Get painting! That's right, it's perhaps the most eco-friendly and prehistoric way of painting!
5. You can snap a photo of the finished artwork and get it made into a framed print for the kitchen wall, beautiful!

We hope you're feeling inspired during these winter days and ready to get digging through the art cupboard to start out on these painting projects for kids and adults alike, we know we are!


Tags wall prints, affordable canvas, canvas prints, framed artwork, poster prints, affordable posters, custom picture frames,
---
Related Products