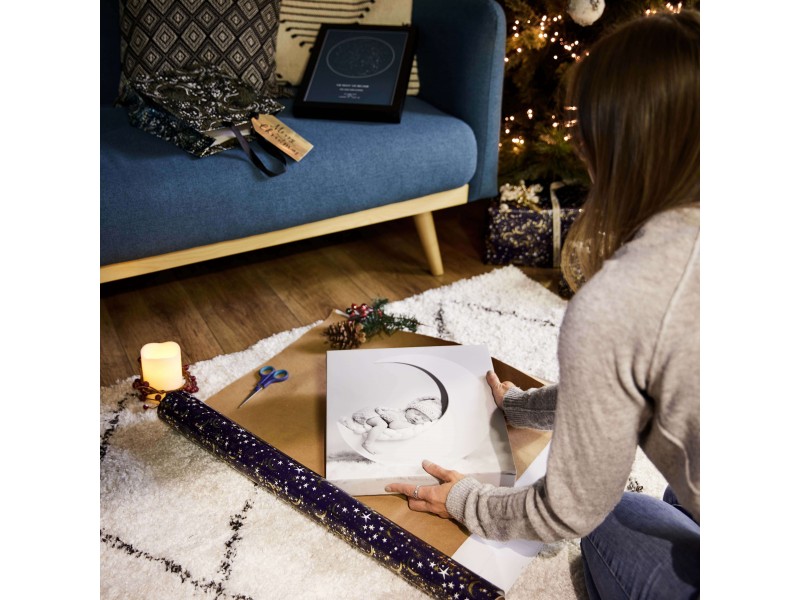 ---
We all know someone who's hard to buy for so we've put our thinking caps on to come up with some great ideas for gifts for the woman who has everything.

With Christmas just around the corner, hopefully these gift ideas will provide you with some helpful inspiration…


1. Star maps

We can't get enough of these personalised star maps – they're a beautiful homage to a special memory. Star maps stylishly mark the location and date of the event, plus you can even add a personalised message to them! This gift is great for women who are sentimental, who have beautiful homes and who love anything to do with the night sky, astrology or astronomy; keep that date written in the stars and she'll thank you forever.

2. Canvas prints in floater frame

A framed photo is nice, but a canvas floater frame puts a slightly different spin on things by making the canvas look like it's floating within the frame – sure, it's just an optical illusion, but we love it all the same! We all love to laugh, so find a funny photo, get it made into a canvas with a box frame and get those funny bones working!
3. For the fussiest of them all…

Sometimes when we're choosing gifts for the woman who has everything, we know them well enough to know they have a cupboard full of last year's gifts which weren't to her taste and she's just waiting for an opportunity to re-gift. For those women, especially if they're always snapping photos, a gift certificate from us would be the perfect way to go. That way, she can use the certificate to create something beautiful that matches her taste exactly, and you've given her exactly what she wants, with no returns or risk of it being given away next year.


4. Spa day

Who doesn't love a spa day? A day wrapped in robes, with afternoon tea, swimming and hopefully some massage and beauty treatments too. For an extra special touch of luxury, choose a 5 star hotel stay in a room with a view of the ocean, preferably with dinner for two… delicious!


5. A cleaner!

What's the one gift you can give which will be universally appreciated? The gift of free time. Hiring a cleaner is a double whammy gift – her house will be spotless and she will have some spare time to do with as she pleases, awesome! You can do this as a one-off clean, just to help her kick back over Christmas and take some extra time to relax.

Now you've got some cool ideas for gifts for the woman who has everything' you'd better get planning in time for Christmas! Give us a shout if you need any help with it!



Tags Gifts for the woman who has everything
---
Related Products